DJI Robomaster EP Core – Rental
$0.00
-
Rent me today!  For as low as $41/day (w/ 7-Day rental)
Basic Liability Insurance included with rental
Rental Damage insurance available
Extra battery rentals available
1-Inch CMOS Sensor
5.4K Video
MasterShots
12km 1080p Transmission
Obstacle Sensing in 4 Directions
Description
DJI Air 2S – Rental
Introduction to drone rentals by Madison Area Drone Service:
Our goal is to make renting drones & similar equipment an easy, fun and safe experience.  We dislike fine print and hidden fees, so all of our agreements and billing fees are easy to understand and easy to view beforehand.  Most of all, we want you and everyone else to be safe while you enjoy your rental.
Basic Liability Insurance is included with every rental.  If you plan to use your drone for a commercial operation or would like the maximum liability coverage for additional peace of mind, this is available at an additional cost.  While the competition leaves you hanging, we make sure you are safe and ready to go before you receive your rental.
Rental Damage Insurance available!  In the unlikely event that your rental is crashed, damaged or otherwise brought back in less than perfect shape, don't worry, you're covered*.  If you really enjoyed your rental and wish you could just keep it, you can!  Our Rent-To-Own* program means that your rental fee is applied to the rental purchase, should you choose to purchase the rental unit within 30-days of your last rental date.  Deciding on a new drone, or just renting one for fun or to get the job done, has never been more easy and affordable.
How it works:
Purchase:
Select the product options above.
Add to cart & check out securely online.
Choose from optional shipping options & checkout.
Sign & return the digital E-File Rental Contact & Rental TOS (or sign & return paper copy in-store, local customers only).
Receive:
Your rental starts once you have received the drone (received = local pickup OR confirmed delivery).
You'll receive your rental in person OR by mail.
Hurray!  Get outside and enjoy flying!  Your rental will arrive fully charged, updated and ready to go.
Return:
When your rental time is up, return the drone in person OR drop it off at a shipping store, by the required return time.
You'll receive your Refundable Deposit fee back, once the rental is returned on-time & in good condition.
For more information, please read the Drone & Equipment Rental Guide HERE.
For additional terms of service, including rental terms, you can read the full website & rental TOS HERE
*Please read Rental Contract and Rental TOS at the time of rental for completion information.
———————————————————————————————————————————————————————
DJI Air 2S
Take a Closer Look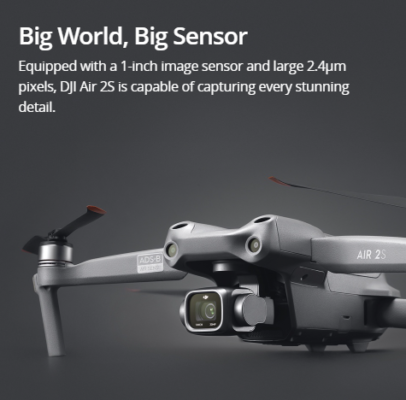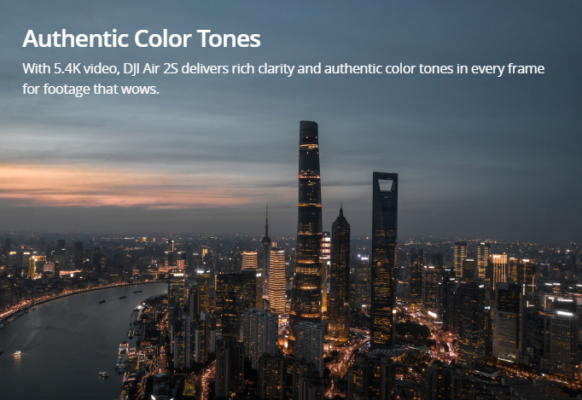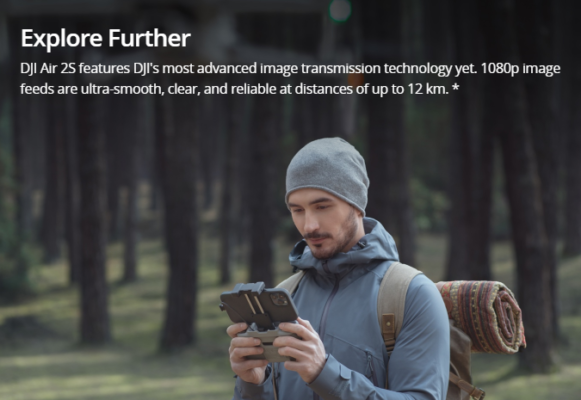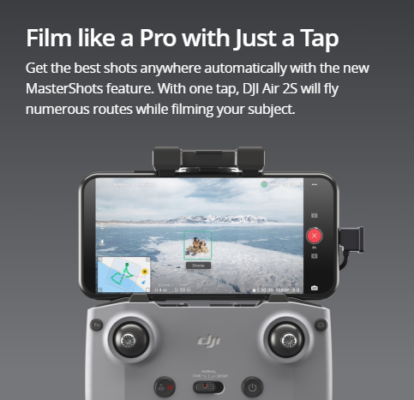 Large 1-inch Sensor Size
Equipped with a 1-inch image sensor and large 2.4um pixels, DJI Air 2S is capable of 5.4K/30fps and 4K/60fps video.  Capture any moment
with the rich clarity and authentic color tones it deserves.
Turn On the Night
Capture the allure of the world, even as it darkens. Thanks to a high dynamic range, high resolution, and accurate color reproduction,
even low-light scenes are sharp and vibrant.

In The Box: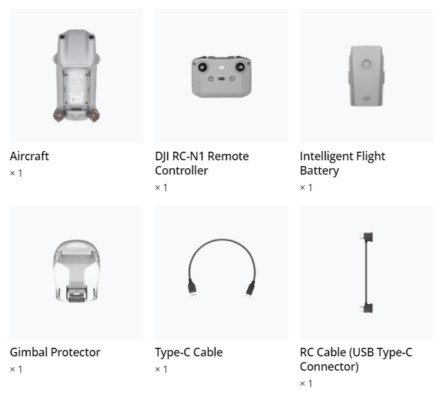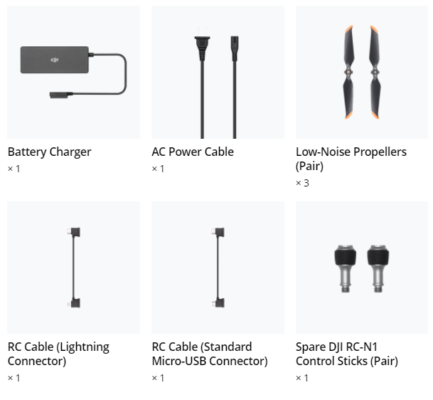 DJI Air 2S
Aircraft
Dimensions

Folded:
180×97×77 mm (length×width×height)
Unfolded:
183×253×77 mm (length×width×height)
Max Ascent Speed

6 m/s (S Mode)
6 m/s (N Mode)
Max Descent Speed

6 m/s (S Mode)
6 m/s (N Mode)
Max Service Ceiling Above Sea Level

5000 m
Max Flight Time (no wind)

31 minutes
Max Hovering Time (no wind)

30 minutes
Max Flight Distance (no wind)

18.5 km
Max Flight Speed (near sea level, no wind)

19 m/s (S Mode)
15 m/s (N Mode)
5 m/s (C Mode)
Max Wind Speed Resistance

10.7 m/s
Max Tilt Angle

35° (S Mode)
Front: 30°, Back: 20°, Left: 35°, Right: 35° (N Mode)
Max Angular Velocity

250°/s (S Mode)
90°/s (N Mode)
60°/s (C Mode)
Operating Temperature Range

0° to 40°C (32° to 104°F)
Operating Frequency

2.4 GHz
5.8 GHz
Transmission Power (EIRP)

2.4 GHz:
FCC: ≤30 dBm
CE: ≤20 dBm
SRRC: ≤20 dBm
MIC: ≤20 dBm
5.8 GHz:
FCC: ≤30 dBm
CE: ≤14 dBm
SRRC: ≤29 dBm
Hovering Accuracy Range

Vertical:
± 0.1 m (with vision positioning)
± 0.5 m (with GNSS positioning)
Horizontal:
± 0.1 m (with vision positioning)
± 1.5 m (with GNSS positioning)
Propellers

Quick release, low noise, folding
Intelligent Flight Battery
Max Charging Voltage

13.2 V
Charging Temperature Range

5° to 40°C (41° to 104°F)
Camera
Sensor

1″ CMOS
Effective Pixels: 20 MP; 2.4μm Pixel Size
Lens

FOV: 88°
35 mm Format Equivalent: 22 mm
Aperture: f/2.8
Shooting Range: 0.6 m to ∞
ISO Range

Video:
100-3200 (Auto)
100-6400 (Manual)
10-Bit Dlog-M Video:
100-800 (Auto)
100-1600 (Manual)
Photo:
100-3200 (Auto)
100-12800 (Manual)
Still Image Size

20 MP
5472×3648 (3:2)
5472×3078 (16:9)
Still Photography Modes

Single shot: 20 MP
Burst shooting: 20 MP (continuous burst)
Auto Exposure Bracketing (AEB): 20 MP, 3/5 bracketed frames at 0.7 EV bias
Timed: 20 MP, 2/3/5/7/10/15/20/30/60s
SmartPhoto (including HDR and HyperLight): 20 MP
HDR Panorama:
Vertical (3×1): 3328×8000 (width×height)
Wide-angle (3×3): 8000×6144 (width×height)
180° (3×7): 8192×3500 (width×height)
Sphere (3×8+1): 8192×4096 (width×height)
JPEG/DNG (RAW)
Video Resolution

5.4K: 5472×3078 @ 24/25/30 fps
4K Ultra HD: 3840×2160 @ 24/25/30/48/50/60 fps
2.7K: 2688×1512 @ 24/25/30/48/50/60 fps
FHD: 1920×1080 @ 24/25/30/48/50/60/120 fps
MP4/MOV (H.264/MPEG-4 AVC, H.265/HEVC)
Max Video Bitrate

150 Mbps
Supported File System

FAT32/exFAT
Supports a microSD card with a capacity of up to 256 GB.
Digital Zoom

Zoom recording is not available while recording 10-bit videos and 120fps videos.
4K/30fps:
4x;
2.7K/60fps:
4x;
2.7K/30fps:
6x;
1080p/60fps:
6x;
1080p/30fps:
8x
Gimbal
Stabilization

3-axis (tilt, roll, pan)
Mechanical Range

Tilt: -135° to 45°
Roll: -45° to 45°
Pan: -100° to 100°
Pan Axis

Not Controllable
Controllable Range

Tilt: -90° to 0°(default); -90° to 24° (extended)
Max Controllable Speed (tilt)

100°/s
Angular Vibration Range

±0.01°
Sensing System
Forward

Precision Measurement Range: 0.38-23.8 m
Effective Sensing Speed: ≤15 m/s
Field of View (FOV): 72° (horizontal), 58° (vertical)
Backward

Precision Measurement Range: 0.37-23.4 m
Effective Sensing Speed: ≤12 m/s
Field of View (FOV): 57° (horizontal), 44° (vertical)
Downward

ToF Measurement Range: 0.1-8 m
Hovering Range: 0.5-30 m
Vision Sensor Hovering Range: 0.5-60 m
Upward

Precision Measurement Range: 0.34-28.6 m
Field of View (FOV): 63° (horizontal), 78° (vertical)
Downward Auxiliary Light

Single LED
Video Transmission
Transmission System

O3
2.4 GHz/5.8 GHz Auto-Switching (compatible with OcuSync 2.0)
4-antenna 2T4R
Max Transmission Distance

12 km (FCC), 8 km (CE)
8 km (SRRC), 8 km (MIC)
Live View Quality/Latency

Drone + Remote Controller: 1080p/30fps 12 Mbps 120 ms
Drone + DJI Smart Controller: 1080p/30fps 12Mbps 130 ms
Max Transmission Bitrate

44 Mbps (download bitrate)
16 Mbps (live video bitrate)
Operating Frequency

2.4 GHz
5.8 GHz
Remote Controller
DJI Smart Controller

Supported
Remote Controller Transmission System

OcuSync 2.0
Battery Life

6 hours (4 hours when charging a mobile device)
Supported Mobile Device Connectors

Lightning, Micro USB, USB-C
Max Supported Mobile Device Size

180×86×10 mm (length×width×height)
Operating Temperature

-10° to 40°C (14° to 104°F)
Transmitter Power (EIRP)

2.4 GHz:
FCC: ≤26 dBm
CE: ≤20 dBm
SRRC: ≤20 dBm
MIC: ≤20 dBm
5.8 GHz:
FCC: ≤26 dBm
CE: ≤14 dBm
SRRC: ≤26 dBm
Charger
Charging Input

100-240V, 50/60 Hz, 1.3 A
Charging Output

Charging Port: 13.2 V⎓2.82 A
USB Port: 5 V⎓2 A