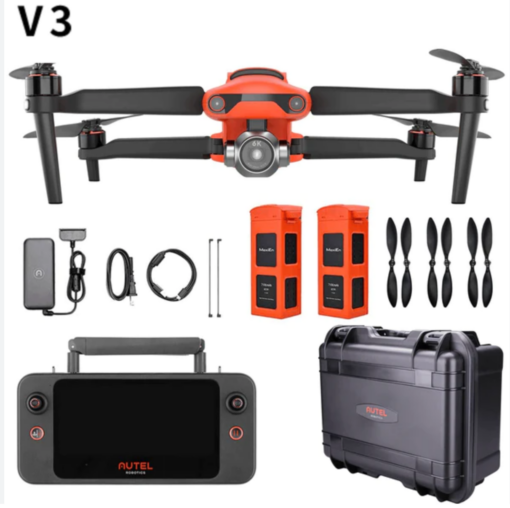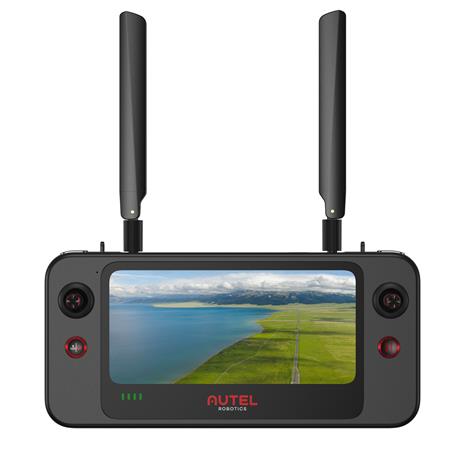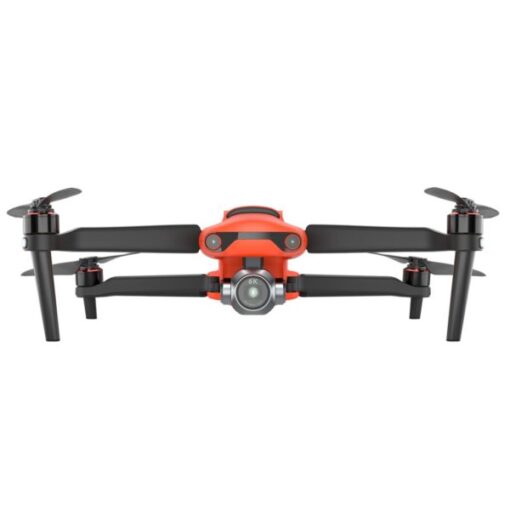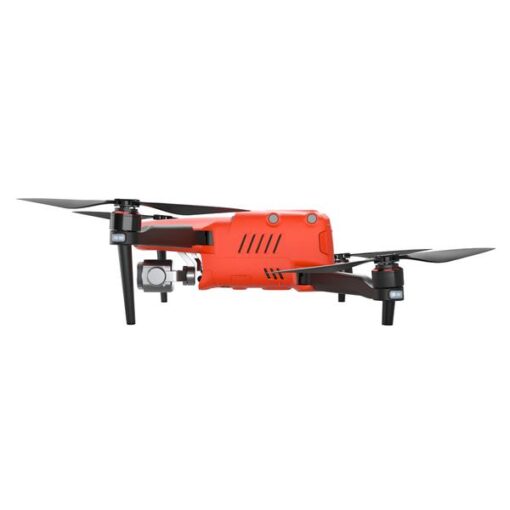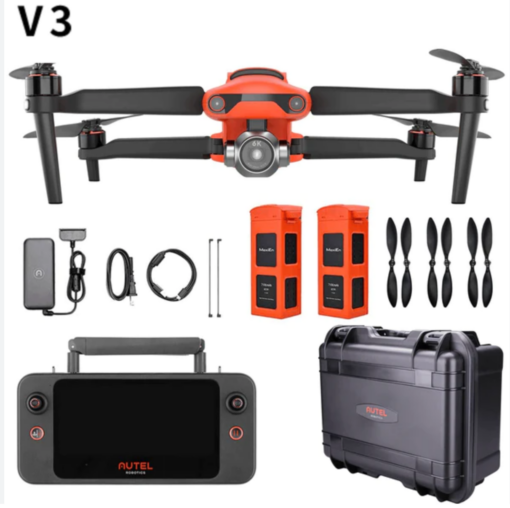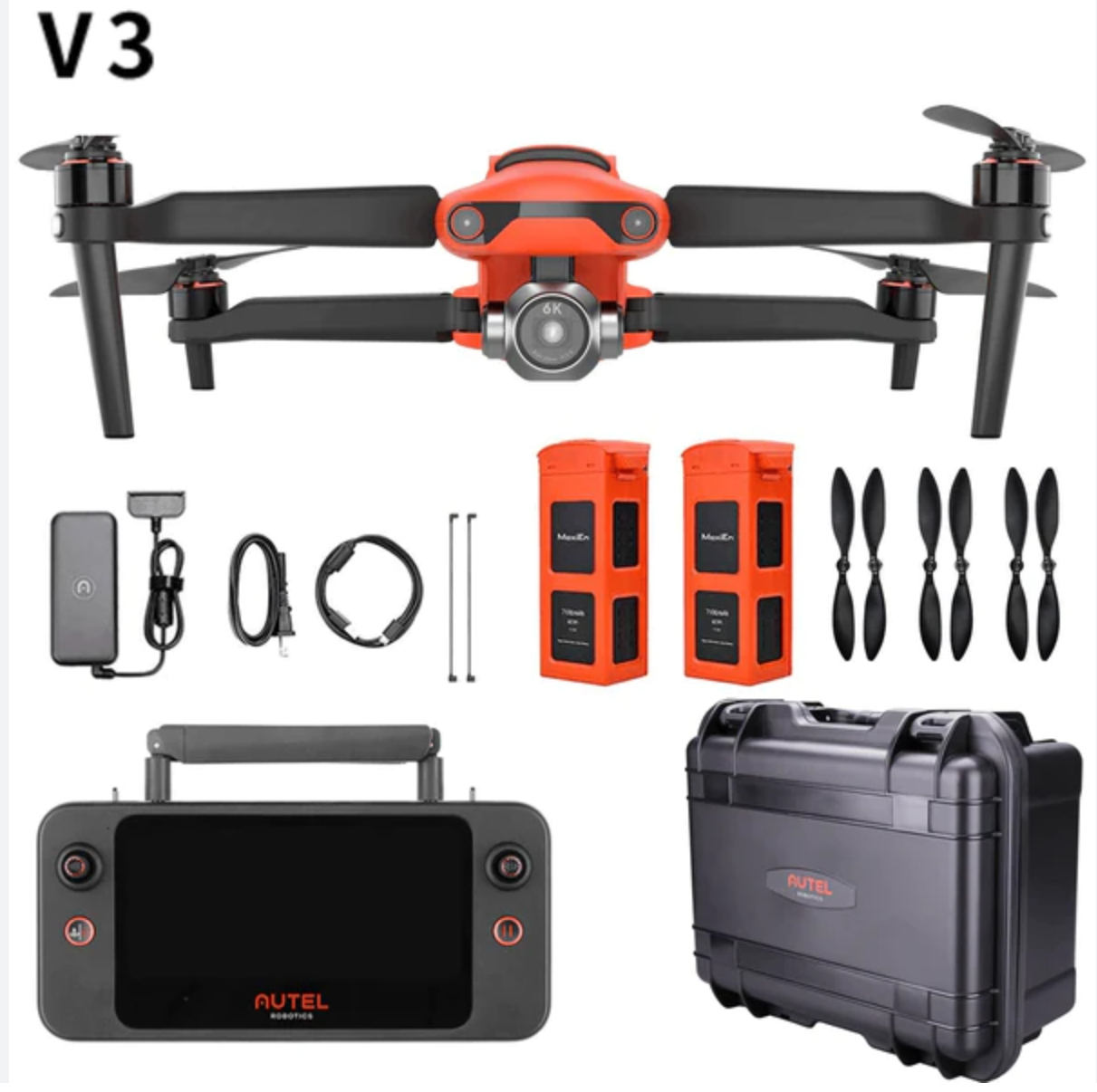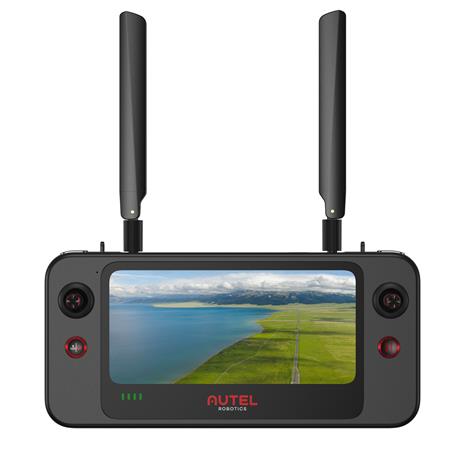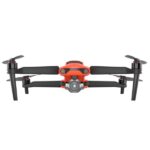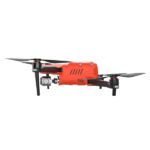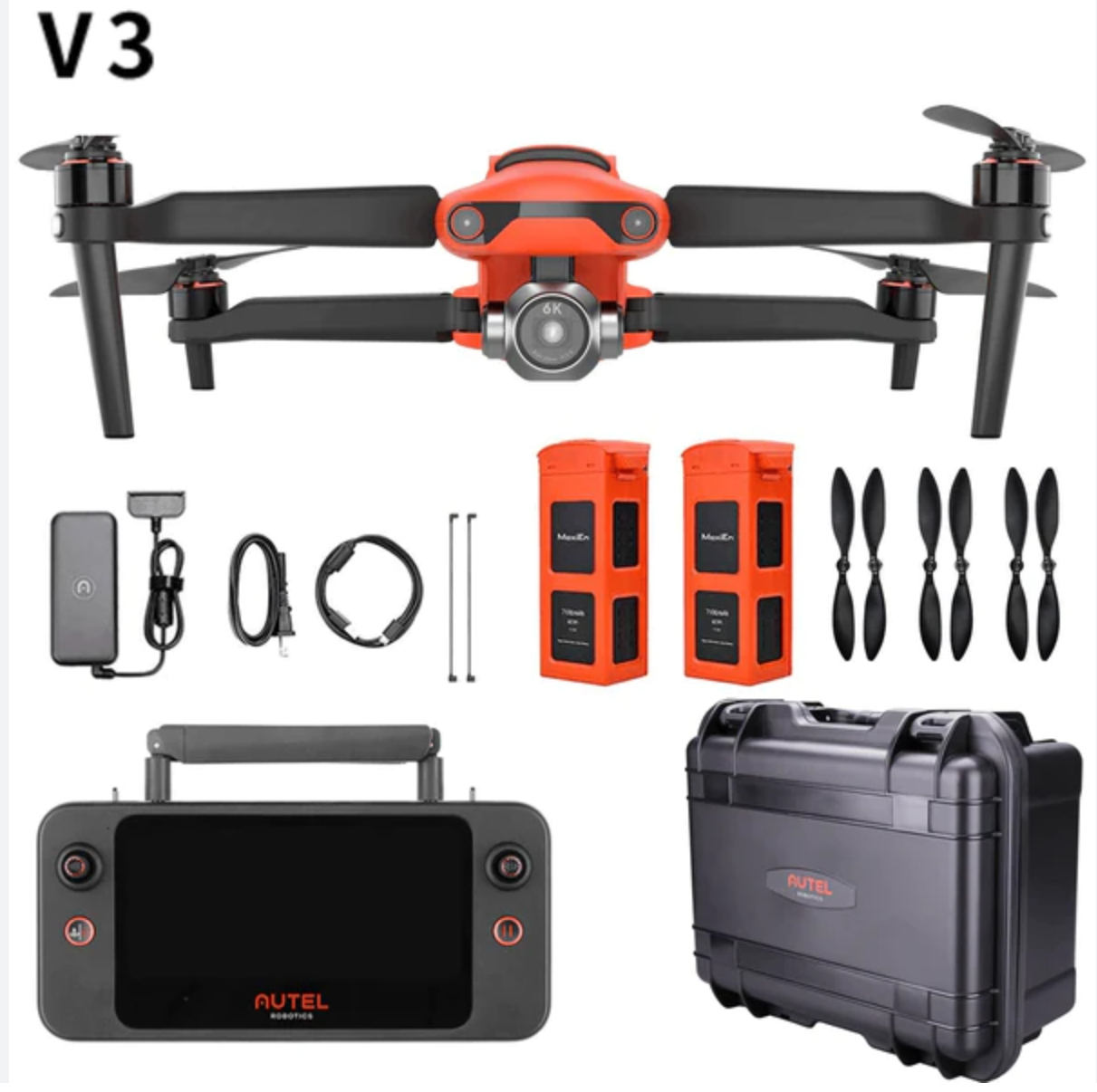 Autel Robotics Evo II Pro 6K (V3) – Rental
$0.00
Rent me today!  For as low as $60/day (w/ 7-Day rental)
Basic Liability Insurance included with rental
Rental Damage insurance available
Rental Includes

Evo II Pro 6K (V3) Drone
Smart Controller SE
1 Battery
Charging and Connection Cables
Military-grade hard case manufactured for Autel by GPC

Extra battery rentals available
The 1-inch sensor EVO II Pro camera captures 6K video up to 30fps. With an adjustable aperture from f/2.8 to f/11 and a max ISO of 12,800, pilots now have exceptional performance and flexibility in any shooting environment
Flight times up to 40 minutes
12 image sensors create a 3D world for omni-directional obstacle avoidance
Triple-Band antenna system for up to a 9km range and better reception in urban areas
Built-in screen and app in the new Smart Controller SE – Just turn both on and go fly
Newest V3 Model
Description
Autel Robotics Evo II Pro 6K (V3) – Rental
Introduction to drone rentals by Madison Area Drone Service:
Our goal is to make renting drones & similar equipment an easy, fun and safe experience.  We dislike fine print and hidden fees, so all of our agreements and billing fees are easy to understand and easy to view beforehand.  Most of all, we want you and everyone else to be safe while you enjoy your rental.
Basic Liability Insurance is included with every rental.  If you plan to use your drone for a commercial operation or would like the maximum liability coverage for additional peace of mind, this is available at an additional cost.  While the competition leaves you hanging, we make sure you are safe and ready to go before you receive your rental.
Rental Damage Insurance available!  In the unlikely event that your rental is crashed, damaged or otherwise brought back in less than perfect shape, don't worry, you're covered*.  If you really enjoyed your rental and wish you could just keep it, you can!  Our Rent-To-Own* program means that your rental fee is applied to the rental purchase, should you choose to purchase the rental unit within 30-days of your last rental date.  Deciding on a new drone, or just renting one for fun or to get the job done, has never been more easy and affordable.
How it works:
Purchase:
Select the product options above.
Add to cart & check out securely online.
Choose from optional shipping options & checkout.
Sign & return the digital E-File Rental Contract & Rental TOS (or sign & return paper copy in-store, local customers only).
Receive:
Your rental starts once you have received the drone (received = local pickup OR confirmed delivery).
You'll receive your rental in person OR by mail.
Hurray!  Get outside and enjoy flying!  Your rental will arrive fully charged, updated and ready to go.
Return:
When your rental time is up, return the drone in person OR drop it off at a shipping store, by the required return time.
You'll receive your Refundable Deposit fee back, once the rental is returned on-time & in good condition.
For more information, please read the Drone & Equipment Rental Guide HERE.
For additional terms of service, including rental terms, you can read the full website & rental TOS HERE
*Please read Rental Contract and Rental TOS at the time of rental for completion information.
Important note: The Evo II V3 is NOT compatible with the Live Deck V1.  It is only compatible with the newer Live Deck V2.
———————————————————————————————————————————————————————
EVO 2 Pro (V3) Drone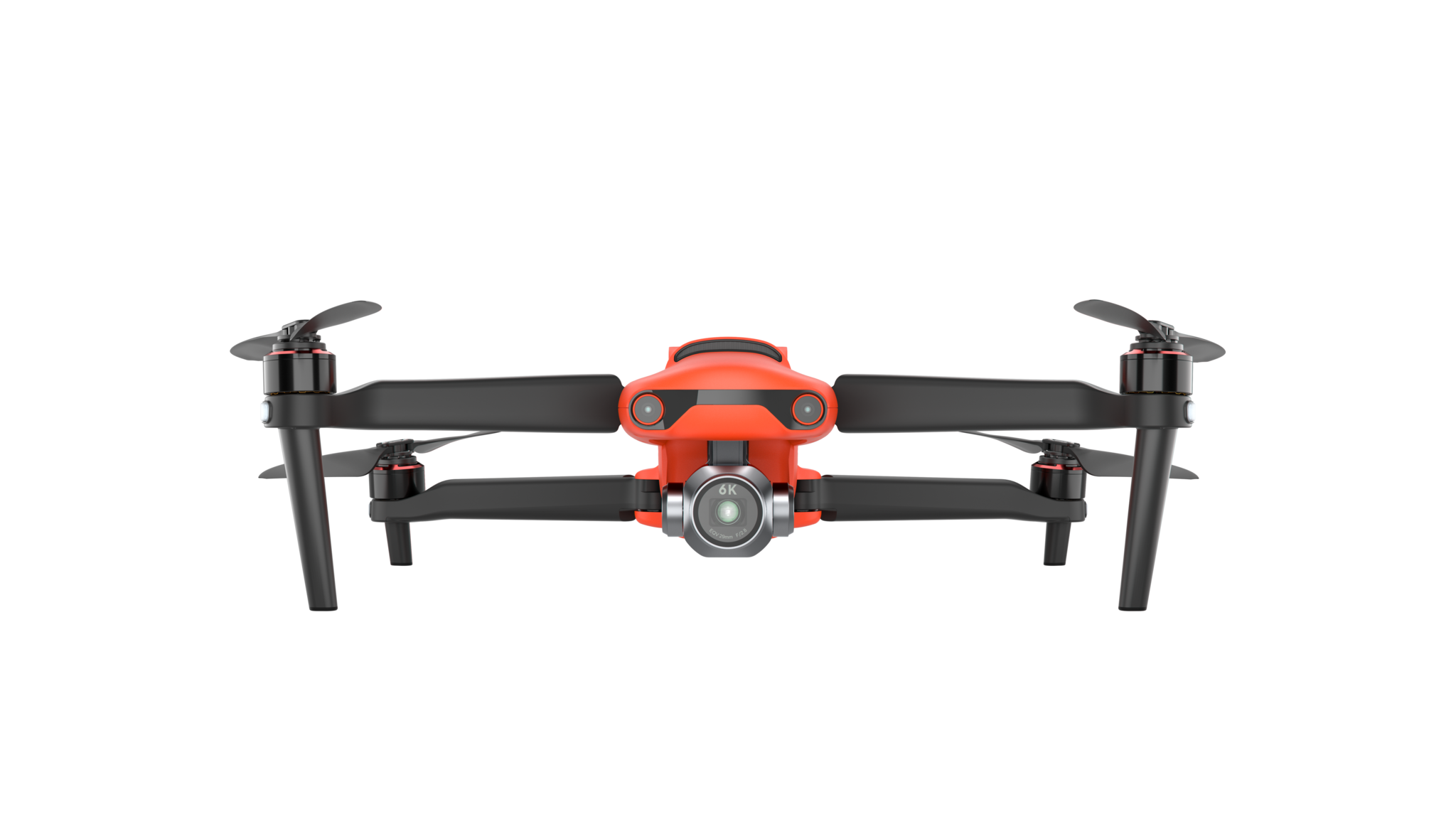 PERFORMANCE
A tool that works as hard as you do. Designed with portability in mind, EVO 2 is built with quality craftsmanship. Each component of EVO 2 goes through multiple tests before assembly and every aircraft must pass a rigorous flight test before it leaves the factory
New V3 Evo II, which includes the new Smart Controller SE – No tablet/cords required
Compatibility with the new Live Deck 2, for secured streaming and HDMI output
Boasts flight times up to 40 minutes with a range of 5.5 miles
Triple-Band 2.4/5.8Ghz and 900Mhz antennas for up to a 9km range and better reception in urban areas
Captures unmatched 6K video, using a full 1″ image sensor
12 image sensors create a 3D world for omni-directional obstacle avoidance
Top speed of 45mph (72kph) allowing to go farther, faster
Absolutely no forced geo-fencing or firmware updates
1-inch sensor & Adjustable aperture
EVO II Pro 6k drone featured Ultra-HD camera with a 1-inch sensor: Takes photos with a resolution of up to 5472 x 3648, and records 5.5K video at 60 fps or 4K video at 120 fps, with a bit rate of up to 120 Mbps. The lens aperture is adjustable within the range of f/2.8 to f/11.
Variety of shooting modes
All three camera modules support a variety of shooting modes, including: Single-shot; Burst shooting; Auto exposure bracketing (AEB); Time-lapse; High-dynamic-range (HDR) imaging; NIGHTBEAT (high signal-to-noise ratio)
Autel Evo 2 Intelligent Flight Modes Video Review:
Adjust field-of-view to any angle from 0° to 90° while flying
EVO II Pro Drone contains a high-precision 3-axis gimbal that keeps the camera steady while the aircraft is flying, ensuring image stability and clarity. Also, You can use the remote control's gimbal pitch dial to adjust the pitch axis to any angle from 0° to 90° at any time.
CINEMATOGRAPHY
Professional film creators will find camera controls and features that they have come to expect as the industry standard. Capable of capturing 6K video up to 30fps and 4K video up to 60fps, our EVO II Pro features built-in HDR bracketing and HDR video, 10- 12 bit recording, H.265 codec, and A-LOG gamma curve.
PHOTOGRAPHY
With EVO II Pro, photos have never looked so good. Re-experience every moment with exceptional low-light photography and time-lapse capabilities made possible with our 1-inch sensor. With an adjustable aperture from f/2.8-f/11, max ISO of 12,800, built-in HDR bracketing, and 20MP stills, pilots now have unmatched performance and flexibility.
MAPPING
Featuring our new 6K 1-inch sensor, EVO II Pro gives users the highest quality pixels available on a foldable drone. Flexible and intuitive mission planning allows the pilot to create custom waypoints for any job. With SDK available soon for third-party integration, executing your mission is easier than ever.
AIRCRAFT
Takeoff
Weight 127-1192g
Wheelbase
397mm
Max Speed
Standard: 15m/s
Ludicrous: 20m/s
Max Service Ceiling
7000m
Max Flight Time
Moving: 40min
Hover: 35min
Transmission Type
FCC: 2.4GHz ALink
Max Transmission Distance
9km
Storage
Internal: 8GB
Max SD: 128GB
Battery Type
LiPo 3s
Battery Size
7100mAh
Controller Screen
3.3in OLED 330 Nits
Controller Battery
5000mAh
SENSING SYSTEM
Sensing Type
12 Omnidirectional computer vision sensors
Detection Range
Forward: .5m – 40m Backward: .5m- 32m
Upward: .5m – 24m Downward: .5m – 22m
Sides: .5m – 24m
FOV
Forward: Horizontal 60° Vertical 80°
Backward: Horizontal 60° Vertical 80°
Upward: Horizontal 60° Vertical 50°
Downward: Horizontal 60° Vertical 50°
---
Only logged in customers who have purchased this product may leave a review.