Autel Robotics EVO Max 4T
$8,999.00
-
Pre-Sale | Expected to receive 4T in March.
8K 10x Optical Zoom
Thermal Camera:640×512 | 16x Digital Zoom
Wide Camera: 50MP | 1/1.28″ CMOS
Zoom Camera: 48MP | 8K 10x Optical Zoom(160x Max)
Laser Rangefinder
Autel SkyLink 3.0 | 12.4 miles Transmission Range
720° Obstacle Avoidance
42 mins Max Flight Time
A-Mesh 1.0 | Mesh Networking Technology
3D Map Planning | Multiple Mission Types | Data Security
Multi-channel Projection Screen*
Autel SDK
Description
Autel EVO Max 4T – A Leader of Drone Intelligence
Reach New Frontiers
The EVO Max 4T brings powerful technologies and advanced autonomy to users. EVO Max 4T assesses complex environments to create real-time 3D flight paths for unparalleled obstacle avoidance. Advanced sensors make flight in GPS unavailable areas possible and the incredible new thermal payload unlocks new object identification and tracking scenarios. With a foldable, weather-resistant design, the EVO Max 4T is as portable as it is capable.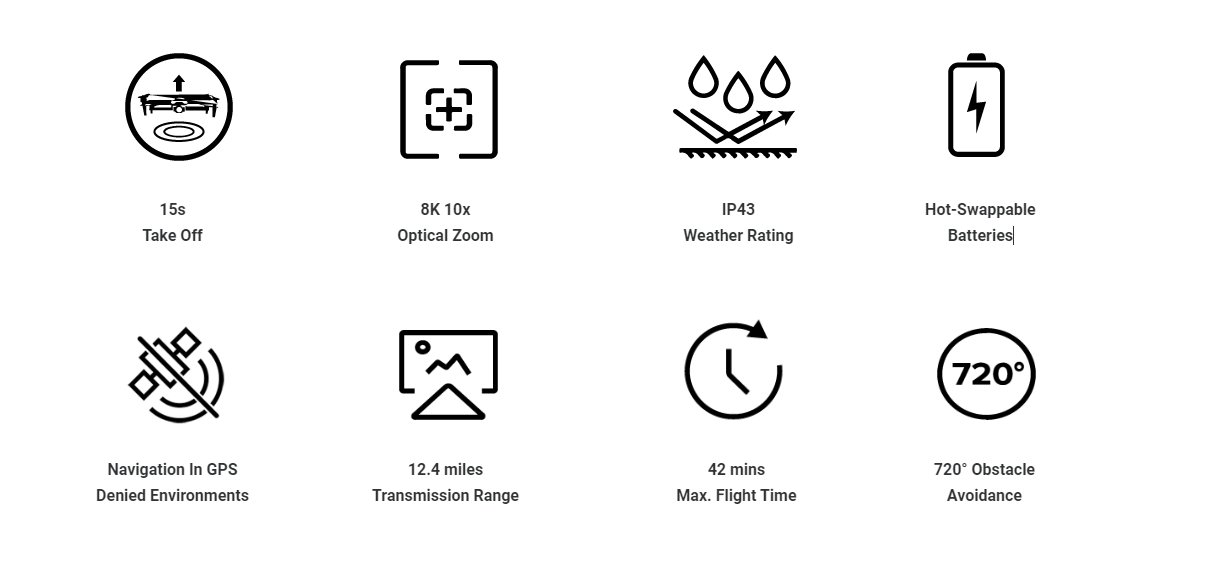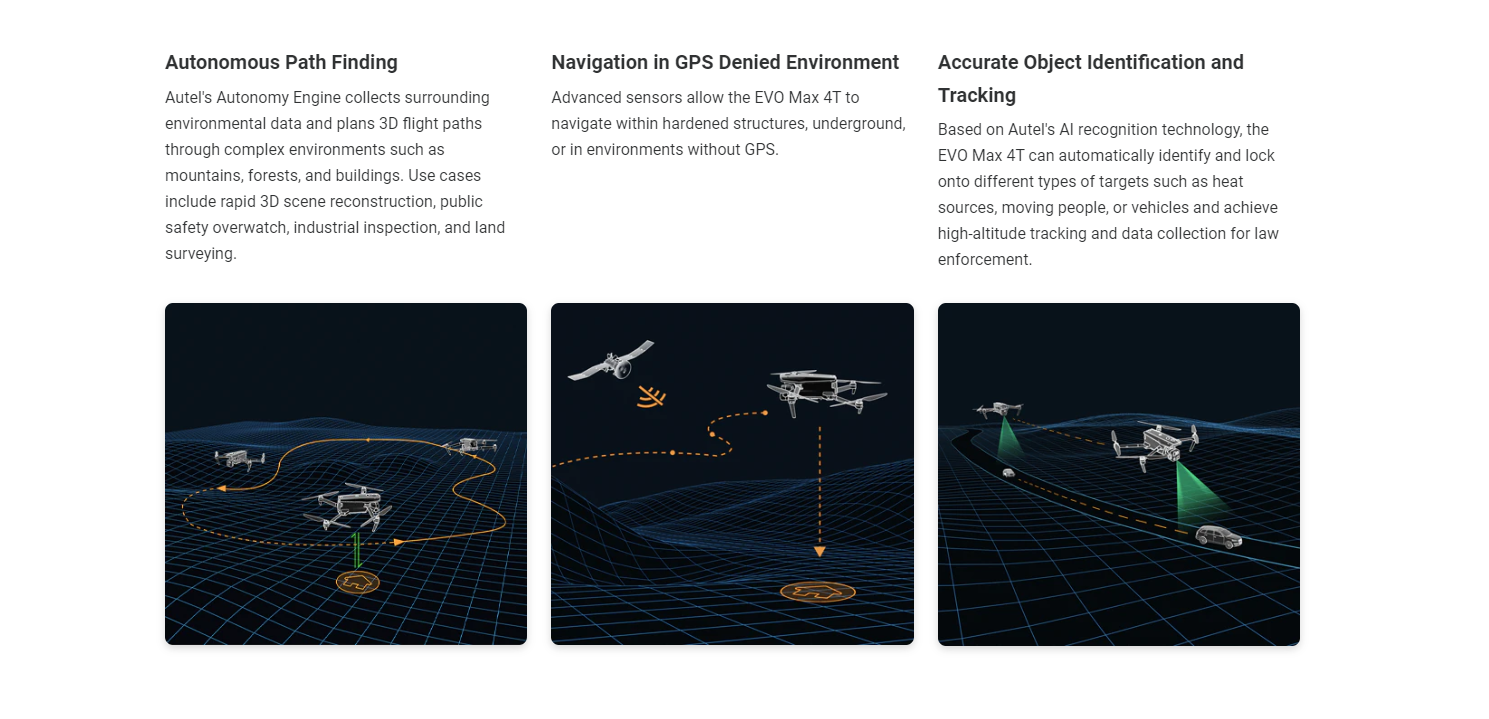 No Blind Spots
Ultimate Obstacle Avoidance
EVO Max 4T is the only commercial drone that combines traditional binocular vision systems with millimeter wave radar technology. This allows the EVO Max 4T's onboard Autel Autonomy Engine to perceive objects down to 0.5 inch, eliminating blind spots and enabling operation in low light or rainy conditions.
Anti Jam, Anti Interference
The EVO Max 4T uses advanced flight control modules and algorithms specially designed to counter RFI, EMI, and GPS spoofing. This enables the EVO Max 4T to fly confidently near power lines, critical structures, and in complex areas.
Weather Rating-IP43
Platform Capability
EVO Max 4T redefines portability with its powerful platform and all weather design.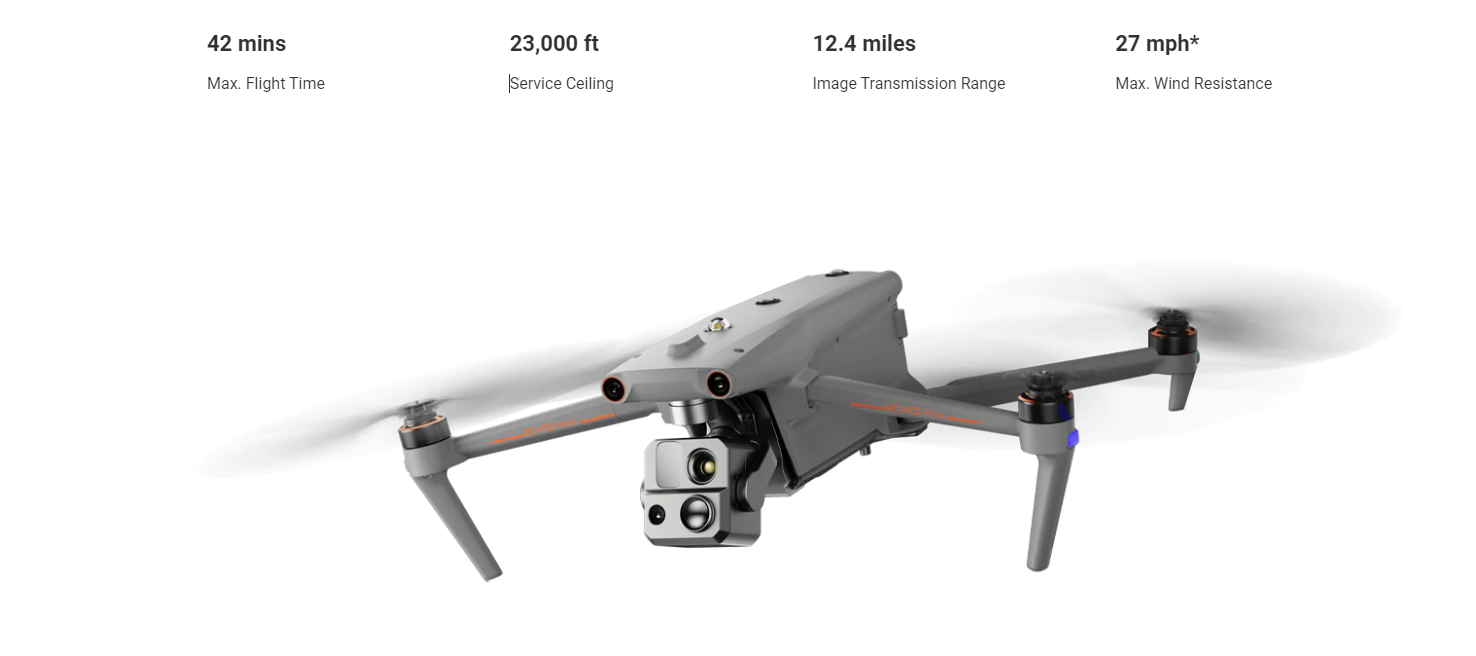 A-Mesh 1.0
The Drone Industry's First Mesh Networking Technology
EVO Max 4T features the new A-Mesh system, enabling drone-to-drone autonomous communication, connection, and collaboration.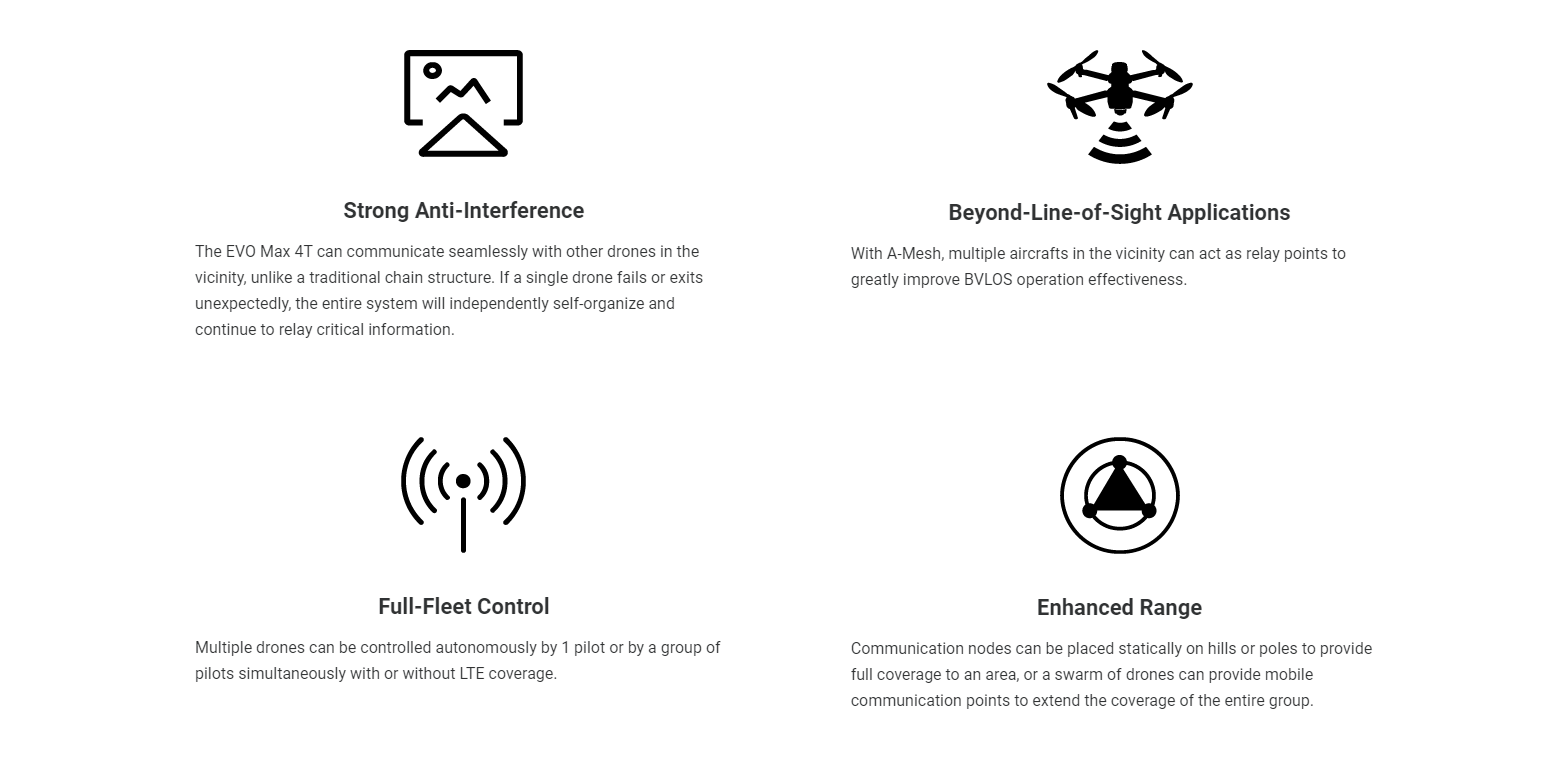 Autel SkyLink 3.0
The EVO Max 4T SkyLink 3.0 system comes with 6 antennas, 4 frequency bands, AES-256 encryption*, and optional 4G integration* to provide users with the most advanced flight capabilities ever in an EVO.
This feature will be available in a future update. **5.2GHz is only applicable for FCC, CE, and UKCA regions. 900MHz is only applicable for FCC regions.
Mission Ready Payload
The payload integrates wide-angle camera, zoom camera, thermal camera and a laser rangefinder for all data capture needs and critical decision making.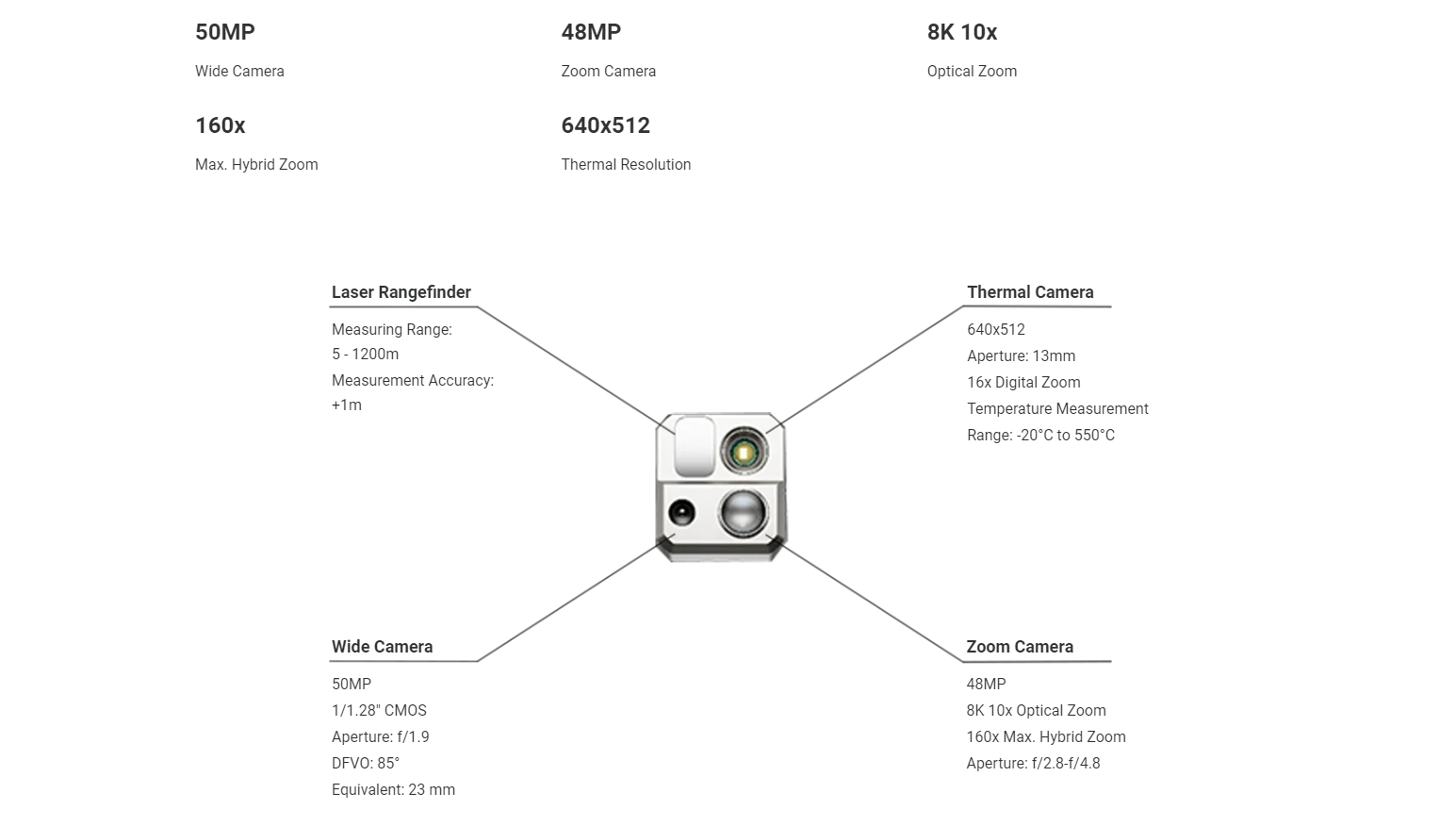 Autel Enterprise App Platform
The Autel Enterprise App is built from the ground up for industrial applications and features a brand-new interface for simple, efficient operation. Additional features and semi-autonomous modes maximize the EVO Max 4T's mission capability.
Smart Features

Multiple Mission Types
The Enterprise App provides various autonomous and semi autonomous mission planning for public safety, inspection, and surveying.
Data Security
Privacy Protection: Data involving user and aircraft information, including flight logs, locations, and account information can only be physically accessed via the aircraft locally.
Encrypted Data Storage: Supports AES-256 encryption for photos, videos, and flight logs, are password-protected.
Enhanced Live-View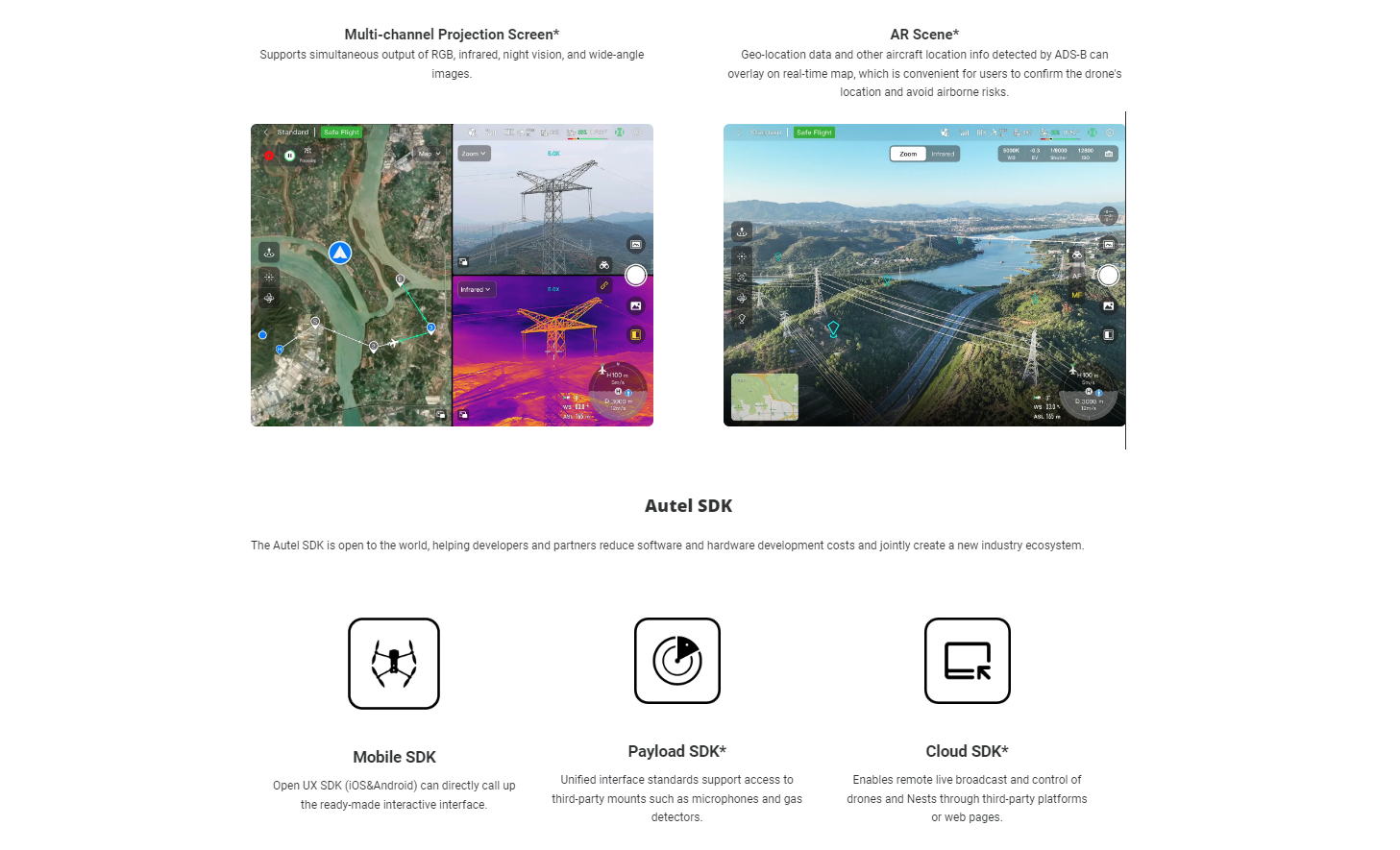 In The Box:
1 x Aircraft
1 x Battery
1 x Gimbal Cover
1 x 64GB MicroSD Card
1 x Battery Charger & Power Cable
3 x Clockwise Propellers
3 x Counter-Clockwise Propellers
1 x Screwdriver
1 x Smart Controller V3
1 x Smart Controller Lanyard
1 x Smart Controller Cover
1 x Pair of Joysticks
1 x RC Charger
1 x RC Charging Cable
1 x Data Cable
1 x Manual
1 x Quick Start Guide
1 x Packing List
1 x Rugged Case
---
Only logged in customers who have purchased this product may leave a review.